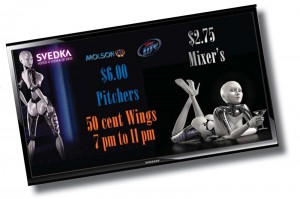 The development and widespread adoption of digital signage has changed the playing field. McDonald's, Burger King and other large corporations spend millions of dollars yearly on digital signage to influence buying decisions at POS because 75% of purchasing decisions are made there. Nielsen reports that 30% of customers viewing digital screens at POS make unplanned purchases.[i].
You already own the TVs. We simply take one or more of those TVs and display DISA (Digital In-Store Advertising). Created by professional graphic designers, your customized digital signage will capture the attention of your customers, generating more interest as well as up-selling your services and products. We do this by imparting information in real time through effective, meaningful, and relevant images and information.
We can offer you a complete package at an affordable price – your screens, our expertise.
[divider style="double-a2″ border="small" color="#dd9933″]
BASIC PACKAGE:

1 Digital Screen with 5 ads running in continuous cycle designed by professional graphic designers.
PLUS 4 monthly ad changes or updates.*
$198 down




$149/month
[divider style="double-a2″ border="small" color="#dd9933″]
Other packages are available.
Call for a quote Nationwide Toll Free
888-497-2330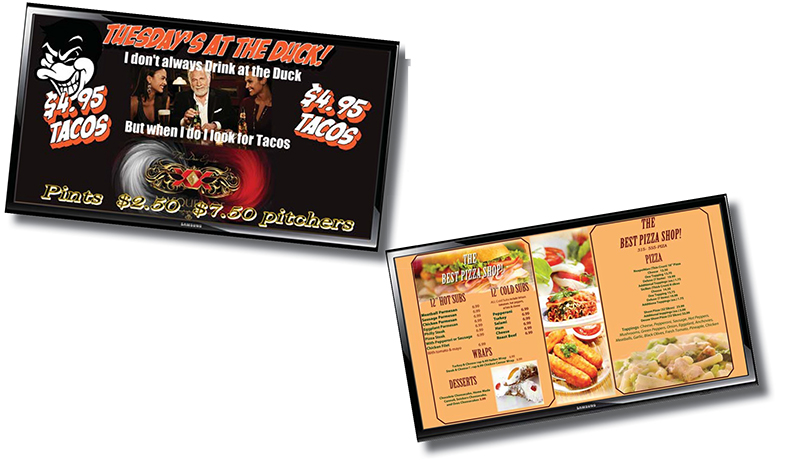 http://qwickmedia.com/news/nielsen-study-confi rms-eff ectiveness-digital-signage-point-sale
* Unused screen updates are not cumulative.